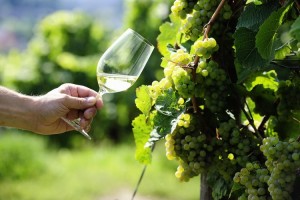 With hot and passionate summer fast approaching, many of us will be looking forward to a glass of wine after work – whether it is merely a happy hour gathering, or a dinner with friends.
During the summertime, Seafood is always a preferred dish on the menu.  At the same time, people very often choose white wines to accompany their seafood.  A well-chosen glass of properly chilled white wine can enhance your enjoyment in the following ways:
The acidity, if balanced, stimulates our palate to be sensitive to the different tastes of the food
The usual floral bouquet helps to vet our appetite for food consumption
The mellow aftertaste soothes our body and the mind for relaxation
We all know there are thousands of white wines for us to choose from.  The editor would like to suggest some varietals as below.
Dry Riesling with a trace of Mandarin
Medium-bodies Sauvignon Blanc with a touch of vanilla and grass
Not too oaky Chardonnay with reasonable structure of acidity and substance
Classic Gewurztraminer which bears the taste of Lychee and rose
Not so sweet Moscato with subtle crispy taste
Certainly, the choice of wine is a matter of personal taste.  Let us simply take what we like most, and I am sure you will find the summer more funful.
Also, our tenants are always welcomed to bring along your friends to K-Cellars to taste your own selections whenever you like.  It is your exclusive venue for wine appreciation as well as your reliable place to keep your valued collection!