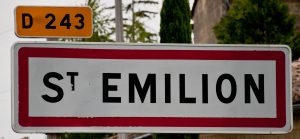 Last month we started to talk about the Bordeaux Right Bank.  Let us firstly look at the region of Saint Emilion.
The Location
The St. Emilion is situated in the Libournais area of Bordeaux, a few miles north of the River Dordogne.
The Soil
We have clay and chalky soil in this region. 
It is less influenced by the moderating effect of the sea, like the Medoc. 
Also, the clay soil is not favourable to the vines of Cabernet Sauvignon as in the Medoc region of the Left Bank
The Grapes
Merlot, and Cabernet Franc are mostly planted in St. Emilion
Predominantly, Merlot is used to make the wines except Chateau Cheval Blanc (over 60% Cab.Franc) and Chateau Figeac(equal mixture of Merlot, Cab.Franc and Cab.Sauvignon)
The Style of Wines
Generally speaking, people describe the St. Emilion wines as more silky and easy going, due to the less severe tannins present
Having said that, some of the great wines like Angelus, Canon can be rather overwhelming
The St. Emilion Classification
The classification was officially started in 1955
Unlike the Medoc Classification, this has been periodically updated in 1996, 2006, and 2012
The Premier Grand Cru Classe 1A
These wines are considered to be supreme, with some earning full marks from time to time
Angelus, Ausone, Cheval Blanc, Pavie are the 4 of them
The Premier Grand Cru Classe 1B
There are 14 of them, also with high quality and recognition
The more famous ones include Canon, Figeac, Troplong Mondot, La Gaffeliere, Clos Fourtet, Belair-Monange(formerly named Magdelaine)
The Grand Cru Classe
There are 63 of them, with quality that is noticeably better than the mere Grand Cru
Some well-known chateaux are Monbousquet, Clos de l'Oratoire, Larose
Many of the above-mentioned wines are capable of long period ageing.  Friends of K-Cellars may want to buy and keep them with us for future enjoyment!