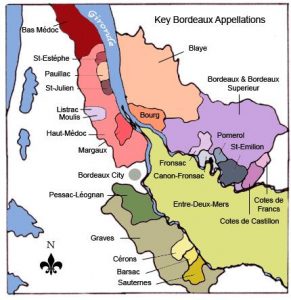 Taking this opportunity, K-Cellars would firstly like to wish all our friends a happy and prosperous Year of the Rooster which will be with us in a week's time.
We have been exploring the Burgundy region for the last few months.  Let us now turn to Bordeaux for a change.
Although it seems Bordeaux Left Bank wines are more familiar with many people, your Editor would like to introduce the Right Bank first.
The Region
Bordeaux Right Bank refers to the North (right) of River Dordogne, specifically in the area named Libourne
This is as opposed to the Left Bank which is situated at the South (left) of River Garonne
Sub-Regions of the Right Bank
The most significant ones are St. Emilion, Pomerol, and Fronsac
Other areas include Cotes de Castillon, Lalande de Pomerol, Cotes de Blaye, and Cotes de Bourg
The Terrior
Climate of Right Bank is as warm as the Left Bank
However, the Right Bank experiences less of the salty influence of the sea
The soil of the Right Bank is heavily impacted by the clay, which is not suitable for Cabernet Sauvignon
The Grapes
Right Bank, due to its clay soil, is particularly favourable to Merlot
White wine grapes can hardly grow well there, thus leading to nearly no white wine production
Style of Wines
Overall, the Right Bank produces lighter and more silky red wines as compared to the Left Bank
However, some Right Bank chateaux are also famous for their intense and complex wines which needs considerable ageing
In the next issue, we will talk about some of the Right Bank regions and their wines.