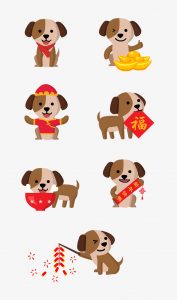 Fung Hei Fat Choy  to all Friends of K-Cellars.  We wish all of you a prosperous Year of the Dog with good health and success.
Last month, we discussed about the Rhone Valley.  This issue we will finish off by a further look at its Northern and Southern sub-regions.
The Northern Region
A very small region, only about 3,000 hectares
Produces only 5% of the wines from the whole Rhone Valley
Climate is cooler with more rain than the South
Syrah is the only red grape used
For the white wines, Roussanne, Marsanne, Viognier are the most popular
Style of the wines in generally are more abundant in taste
Key appellations include: Cote Rotie, Hermitage, Crozes-Hermitage, Cornas, St. Joseph, St. Perey
Famous wineries consist of Guigal, Chapoutier, J.L.Chave, Delas Freres, Pierre Gaillard, Bernard Levet,
The Southern Region
Much bigger region, producing 95% of Rhone wines
About 15 types of red grapes are commonly used, with Grenache the most important
White grapes also include Cinsaut, and Mourvedre in addition to the popular Northern grapes
The wines are more open, and sometimes more alcoholic
Chateauneuf-du-Pape is the most important appellation, and considered as The King of Southern Rhone
Meanwhile, Cotes du Rhone is well-known for its huge production of good money value wines
Other key appellations comprises Gigondas, Lirac, Tavel, Rasteau, Vacqueyras
Popular wineries include: Beaucastel, Cailloux, Janasse, Rayas, Vidal Fleury
Friends of K-Cellars will certainly find the Rhone Valley a very diverse and interesting region to explore and enjoy.  Wish you pleasant drinking all the time!