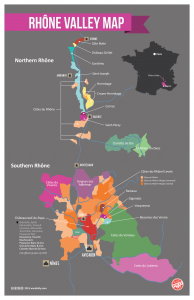 Happy New Year to Friends of K-Cellars.  We wish you every success and happiness in 2018.
Last year, we talked about the Burgundy and Bordeaux regions.  Now we go further South.  Starting from January, let us take a few issues to look at the Wines from the Rhone region.
The Rhone region is situated in the Rhone Valley.  It is a very abundant wine producing region, with the major volume designated as Cotes du Rhone AOC.  The region is sub-divided into Northern Rhone and Southern Rhone.
The History
Vine cultivation in the Rhone valley can be dated back to 600 B.C.
Historical records indicated that both the Greeks and Romans have played significant parts in its viticulture
It was also speculated that the Syrah and Viognier grapes had been originated from this region
Overall Production
There are overall more than 6,000 wine domains/properties in the Rhone Valley
These are handled by nearly 2,000 Private Wineries and over 100 Wine Co-operatives
Generally, the vineyard owners do not vinify their wines, but sell the grapes in bulk to Co-operatives or Negociants for production and distribution
Annual production is around 4 million hecto-litres, and over 50% are under Cote du Rhone/Cote du Rhone Villages appellations
The Northern Region
Syrah is the only red grape variety allowed in red AOC wines in this sub-region
Meanwhile, Viognier, Marsanne, Roussanne are the major white grapes
Important properties include: Cote-Rotie, Condrieu, Grillet, St. Joseph, Crozes-Hermitage, Hermitage
The Southern Region
This sub-region is marked by its presence of a big variety of red and white grapes
For example, Chateauneuf-du-Pape is the most famous wine here, comprising of over 19 grape varieties
We will examine the Northern Region in more details in the next issue.  In the meantime, Friends of K-Cellars may find it a warming pleasure to drink some of the richer Rhone Valley wines amidst the Winter Season!