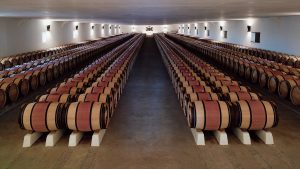 Ever since April, wine consumers have started to receive price quotations of the Bordeaux 2016 vintage.  This relates to the famous En-Primeur system.
The Essence of En-Primeur System
Basically, all the top Bordeaux wine producers sell their wines through this system, which is also known as The Futures
The wines are sold in barrel, several months after the harvest and long before the wines are available in bottles
The producers offer their wines through designated Negociants (wine merchants) who in turn sell to a network of wholesalers
Payment for the wines will have to be made within the year once the order is confirmed, usually divided into 2 or 3 installments
In 2 years' time, the wines will be ready for delivery
The Origin of the System
This system originated around 1620 with the Dutch firm Beyerman ( the Dutch by the way were the earliest developer for Bordeaux wines)
These wine merchants were called Negociants and some of them have over 350 years' experience in such business now
In the beginning, the owners of the Chateaux only took care of the vineyards, made the wines and put them in barrels
The Negociants were then responsible for aging of the wines, bottling, to sales and distribution
In 1972, due to the AOC system requirement, all the top estates started to chateau-bottle their wines
Relation Between Chateaux and Negociants
The negociants are important to the Chateaux since they provide the early cash and market development
Now there are over 400 active negociants in Bordeaux
Each chateau uses a number of negociants
Competition Among Negociants/Chateaux
The Negociants need to compete for allocation of the production by the estates
The competition does not take the form of price, but in the aspects of services and customer development
Today some producers form their own negociant companies to directly market their wines
Starting from 2012 vintage, Chateau Latour ceased to offer its wines through this system and sell when the wines are ready to deliver
2016 En Primeur
The offers have just been put since April
Currently, the notably one is Chateau Palmer at Euro 240
Meanwhile, Montrose has surprisingly made available rather limited quantity at Euro102
Overall, people consider 2016 vintage giving a mini-revival for Bordeaux
If there are further important news on the current offers, the Editor will let our Friends of K-Cellars know.