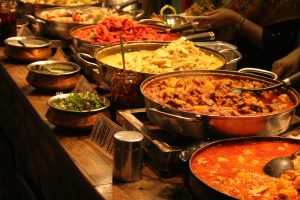 Merry Christmas and Happy New Year to Friends of K-Cellars!
During the Christmas and New Year festivals, many of us will go for sumptuous buffet meals for a nice gathering with friends.
Your Editor has a fondness for Indian curry, especially those prepared by a good chef who takes care of minute details in the preparation.  Usually, we can enjoy great curry dishes in hotels or restaurants which are of certain Michelin-star standards but certainly you will always encounter delicious curry in many round-the-corner bistros as well.
Based on my personal experiences, the following wines can be considered by our readers.  The yardstick for the curry is medium to tolerably spicy levels.
Just one reminder.  People always think we need a powerful wine for the curry.  Actually, we don't.  A fruity, firm wine with good acidity will be sufficient.
So, I suggest you can try:
A Blanc de Blanc champagne for those bubbly lovers
A properly chilled Puligny Montrachet, preferably 1er Cru, to let the elegant Chardonnay acidity work its way up
A Gewurztraminer that is fragrant in noise but not too sweet
A Chateauneuf-du-Pape, so as to taste the combination of many grapes as a good complement
German Dry Riesling with restrained sugar content can be a good choice too
An Australian Shiraz that is not oaky nor spicy
A Napa Valley Cabernet Sauvignon with mild tannins
The list is definitely not exhaustive.  There are many more, such as Cabernet Franc, Carmenere, Pinot Gris etc. 
Last but not the least, to best enhance your cuisine with the wines, it is of utmost importance that you have put the wines under desirable temperature and humidity conditions like those you can find in K-Cellars.