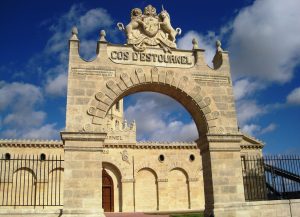 The famous wine expert Robert Parker has created a list of 20 Magical Bordeaux Chateaux.  Among them, he has given high regards to Chateau Cos d'Estournel, saying its quality reaches that of the 1st Growth(the 1855 Medoc Classification ranked Cos as a 2nd Growth).  For the 2016 vintage, Cos was given 98-100 points.  The 2016 en primeur price is around Euros 150.
Many wine lovers acclaimed Cos d'Estournel as the King of the St. Estephe.  It was recorded that famous historical figures such as Queen Victoria, Tsar Nicholas I, Napoleon III, and Karl Marx were known lovers of Cos d'Estournel.  Let us take a brief look at this Chateau.
The History
It was said the founder Louis Gaspard d'Estournel created this chateau in 1791
In the beginning, he sold this wine directly to customers without using the negociant system
His wines reached as far as India in the very early days, and the Asian culture has inspired him in the unique design of his construction
The chateau was later owned by the Prats family, and Jean Guillaume Prats was hired to manage the wine making when the property was further purchased by the current owner Michel Reybier
The Wines
The cellars of Cos has been considered unique to Bordeaux and other chateaux in France
They are operated by gravity; no pumps are used to work on the wines
This allows a kind of pure gentleness to the wine, and wine critics believe the result is a true expression of the terroir
The proportion is being worked towards 65% Cabernet Sauvignon, 33% Merlot, 1% Cabernet Franc, 1% Petit Verdot
The Chateau also produces a white wine Cos d'Estournel Blanc, and a second wine Les Pagodes de Cos
Style of The Wines
Their wines are said to be all-rounded among Bordeaux chateaux, bearing richness, elegance, complexity altogether
It can be aged for long, and 2-4 hours decanting is needed for the young vintages
If one is looking for a not so old vintage, its 2003 is superb
Cos d'Estournel should best be consumed between 10 to 20 years of age.  As always, it will be important to keep this collection in a reliable cellar, and Friends of K-Cellars can definitely feel assured with the wines laid down in your cubicle with us!