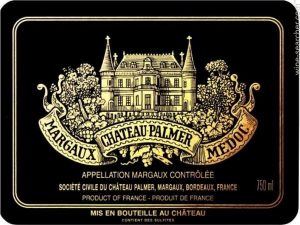 One of Robert Parker's Magical Bordeaux 20 wines is Chateau Palmer, which your editor is rather fond of. 
Among the 1855 Medoc Classification chateaux, Palmer is regarded as one of the most consistent wineries.  This means that virtually it produces fine quality wines for many vintages in a row.  The 2016 En Primeur price is about Euro 260.
History
This chateau was actually part of Chateau D' Issan until the property was sold to the English Colonel General Charles Palmer in early 1800's
General Palmer bought the property on the belief that the quality of its wines was as good as Lafite
Strict attention has traditionally been given to its standards, and twice the vintage was declassified in 1963 and 1968
Now the chateau is owned by the Borie Manoux and Sichel families
In 1998, Palmer released its 2nd Label Alter Ego (meaning another me)
They do not consider Alter Ego as a second wine, and think that it should deserve a 4th Growth status
In 2004, the young Oenologist Thomas Duroux was appointed the winemaker, taking Palmer to its modern era
The Wine Making
The terroirs of Palmer is said to consist of complex diversity
Altogether, there are nearly 20 different gravel, clay and soil types
People believe that the above have helped to create the magic of Chateau Palmer which deserves a higher classification
The property plants to 47% Merlot, 47 Cabernet Sauvignon, and 6% Petit Verdot ( no Cabernet Franc )
Annual production for Palmer is about 10,000 to 12,000 cases whilst Alter Ego 8,000 cases
From 2014, the chateau shifted to 100% biodynamic farming
Style of The Wines
Some wine experts consider Chateau Palmer a "sensuous wine of beauty"
They acclaim that everything which makes up a great Bordeaux wine can always be found in Palmer
Meanwhile, we need to note that Palmer is not a wine for drinking young; 12-15 years of bottle age is ideal
If we want to taste Palmer young, we can resort to Alter Ego
As always, Friends of K-Cellars can rely upon our excellent cellar conditions to keep these wines until they are ready!