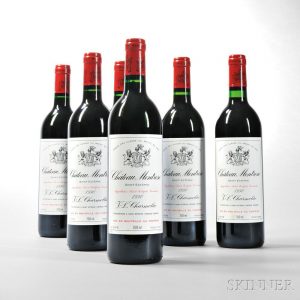 Chateau Montrose has been known for its great complexity and refined powerfulness.  Being a 2nd Growth of the 1855 Medoc Classification, it is sometimes referred to as "The Chateau Latour in the St. Estephe region".
This year, the Wine Researcher has named Ch. Montrose among one of the 10 most-sought after Bordeaux fine wines.  Its 2016 vintage has got 100 points from wine critics.  At the en primeur price of below Euro 150, its allocation was quickly sold out.
The History
The first known owner was Alexandre de Segur who also possessed the famous chateaux of Mouton, Lafite, Latour and Calon Segur
Before 1778, the chateau was actually part of Calon Segur; it was a new owner Etienne Dumoulin who created Chateau Montrose
It was said that the name was inspired by sailors who passed by the mountain of the property and saw the area covered by flowers in pink
The current owner is the Bouygues family who hired Herve Berland as wine maker( he was with Mouton Rothschild for 40 years)
The Wines
Chateau Montrose is among the few Bordeaux estates who started to bottle their own wines
Grape composition: 60% Cabernet Sauvignon, 32% Merlot, 6% Cabernet Franc and 2% Petit Verdot ( the goal is to increase to 65% CS)
43% of the vines are currently being farmed by organic methods, and the objective is to have 100% organic by the year 2025
Notably, today the Chateau limits its Grand vin production to 15,000 cases, cut by half of what it was in 1982
The Style
Chateau Montrose is well-renowned for its complexity, intensity, structure and powerfulness
The wines require a long time to age, and for the great vintages you can still find them fresh after several decades
Needless to say, this wine complements very well meat and hearty-favoured dishes
Friends of K-Cellars, do keep your Chateau Montrose in our cubicles when you purchase its wines.  You can rest assured that the wines will be fresh and delicious after many years!