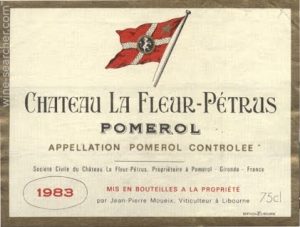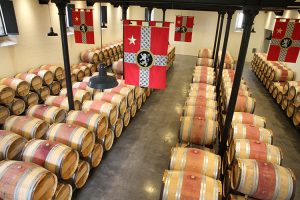 One of Parker's Magical 20 is situated at the right bank of the Bordeaux region, in the commune of Pomerol within the area of Gironde.  It is Chateau La Fleur Petrus, which is highly respected as one of the Great Growths of Pomerol!
Chateau La Fleur Petrus takes its name from the supreme Chateau Petrus, which is within the distance of a stone throw.  However, La Fleur Petrus offers great value for money as its price is only a small fraction of Chateau Petrus.  Buying 12 bottles of the former is less than 1 bottle of the latter.
History
The property can be dated back to 1782 when it was owned by the Constant Family which also possessed Chateau Clinet
In 1953, Jean Pierre Moueix purchased La Fleur Petrus, adding it to his Etablissements Jean Pierre Moueix estate
The chateau was enlarged in 1994 with the acquisition of vines from Chateau Le Gay
Nowadays, the wine-making is done at Chateau Hosanna which also belongs to the Moueix family
The Wine Making
In the beginning, the 18.7 hectare of the chateau was planted to 80% Merlot and 20% Cabernet Franc
Starting from 2012, the composition has been changed to 91% Merlot, 6% Cabernet Franc, adding 3% of Petit Verdot
A high amount of 50% new oak is often used to age the wine for 18 months, with variations according to the vintages
Annual production is kept to 72,000 bottles only, with no second label
Style of the Wine
In addition to being regarded as elegant, lots of beautiful words are used to describe the wine, e.g. rose, truffles, cherry blossoms
The taste is often considered as velvet, silky, and long
Needless to say, the wine is meant for ageing
If you like to buy young vintage to keep, the 2012 is a must though it is now difficult to get
One point to note is even in a not so outstanding vintage, La Fleur Petrus seldom lets the drinkers down due to its sensuous and concentrated characters
For wines like these, Friends of K-Cellars enjoy the privileges of resting them in well-controlled temperature and humidity conditions to await the joy of consumption in future!