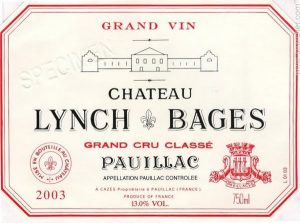 Many wine lovers have experienced Chateau Lynch Bages.  This chateau is popular in Hong Kong, and famous for its Chinese name 靚次伯 who is a well respected Cantonese opera singer.  In China, as early as 1986, the wine expert Jean Michel Cazes had come to promote Lynch Bages and this chateau is very well-known there.
Although just being a 5th Growth in the Medoc Classification, Chateau Lynch Bages wins high acclaim over the world and is listed among Robert Parker's Bordeaux Magical 20.
The History
The Chateau was founded in 1749, and the name was changed a few times till 1862
In 1938, the famous Cazes family bought the property and this estate embarked on a new road
In 1985, Lynch Bages(vintage 1975) became the first wine sent to the Space, by a French astronaut carrying it with a joint US/French space flight
Wine Making
This 100-hectare property nurtures 75% Cabernet Sauvignon, 17% Merlot, 6% Cabernet Franc, 2% Petit Verdot
Some of its old vines are 90 years old, with the average around 30
Annual production around 35,000 cases
The 2nd label is Echo de Lynch Bages ( called Haut Bages Averous before 2008 )
The chateau also produces a white wine Blanc de Lynch Bages, consisting of 53% Sauvignon Blanc, 32% Semillon and 15% Muscadelle
Style of Wines
Chateau Lynch Bages is well loved for its great concentration, mingled with charm and finesse
Some found truffle flavours and lasting tannins in the wine
Some wine drinkers advised that 4 hours of decanting is appropriate for the young vintages
If you want to savour a young bottle of the Chateau, the 2008 will be excellent
As always, Friends of K-Cellars will be delighted that your Lynch Bages collection lays comfortably and firm in your private cubicle with us!  Do enjoy!